Bikes for cities
with a future:
We made the difficult easy.
For an institution:

you call us, we talk, we take care of everything. That's it!

For citizens:

you tap in the app you ride the bike, you return it That's it!

For the planet:

less CO 2 more health. That's it!
We have simplified and perfected a very complex service in a way that lets you launch it in your city more easily than ever before.
Find out about the details!
01 06 2020
We've just implemented the Roovee system in Włocławek
31 12 2020
31.12.2020 jest ostatnim dniem funkcjonowania systemu Nowodworskiego Roweru Miejskiego. Wraz z jego zamknięciem sezon 2020 oficjalnie uznajemy za zakończony. Dziękujemy, że byliście z nami w tym wyjątkowym pod każdym względem roku. W nadchodzącym, 2021, życzymy Wam dużo zdrowia, spokoju i cóż – powrotu do normalności. Do zobaczenia na rowerowych ścieżkach na wiosnę!
30 11 2020
Z dniem dzisiejszym sezon Roovee 2020 zostaje zakończony w następujących miastach:
Bolesławiec (BROM),
Suchy Las (SRG),
Wągrowiec (WRM),
Włocławek (WŁOWER),
Zabrze (ZRM).
Do zobaczenia na rowerowych ścieżkach w przyszłym roku!
31 10 2020
Sezon Roovee 2020 zostaje dziś zakończony w następujących miastach:
Chodzież (Chromek),
Nasielsk (NRM).
Ostrołęka (OSTRO-BIKE),
Śrem (ŚRM),
Stalowa Wola (SWMR).
Dziękujemy, że byliście z nami!
01 10 2020
Za nami inauguracja pilotażowego sezonu Sucholeskiego Roweru Gminnego. Witamy Suchy Las w rodzinie Roovee!
25 09 2020
Jeśli zastanawialiście się, jak koszykarze Anwilu Włocławek dojeżdżają na swoje treningi, >tutaj< znajdziecie odpowiedź!
16 09 2020
Pilotażowy sezon Zabrzańskiego Roweru Miejskiego z Roovee rozpoczęty! Ogromne zainteresowanie w pierwszym dniu funkcjonowania.
01 06 2020
220 rowerów Roovee na ulicach Włocławka! 200 rowerów standardowych oraz 20 wyposażonych w foteliki dziecięce utworzy w tym sezonie system WŁOWER – Włocławski Rower Miejski
Launch Roovee
in your city
a system of city bike rentals
fully personalised and calibrated solutions adapted to the brand of the city or company
the only 100% Polish bike sharing company (Polish concept, electronics, software, bikes, and stands)
refined and tested solutions (the system already works successfully in many cities)
a supplementation of city transportation
adapted to the client's budget
a reliable and responsible service
eco-friendly every kilometre of the way
friendly communication
It comes with many advantages for the city, for its citizens, and for the environment. From an improved image, to a better distribution of road traffic – Roovee brings a lot to the table.
You say /'ru:vi/
and ride Roovee :)
We operate in many Polish cities. We are a reliable partner of local governments, local communities, and businesses.
We would like to work with you, too. Here is what we have to offer:
Make transportation easier
Supplement the local transportation network with eco-friendly bikes that take advantage of the Orange IoT (Internet of Things) technology, solar panels, and NFC contactless payments. Every person riding a Roovee bike instead ofdriving a car means shorter traffic jams and less CO2 emissions.
Cities get jammed because everyone is driving in the same direction and aiming to catch the same parking space at the same time. Roovee is a better way of mixing modes of transportation: on a bike, you will get wherever you want to, and by car – where you have to.
Make city transportation easier and everything will go more smoothly.
IT'S GREAT TO TALK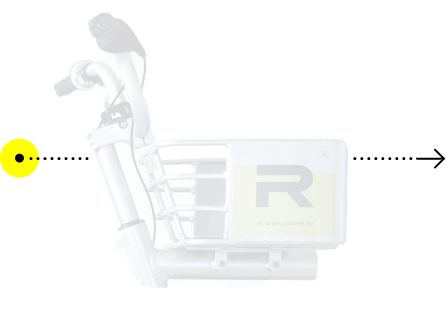 A minute-long conversation will be more productive than a day of second-guessing.
We have time for you, and we will give you our attention. Call us:
Call us or write to us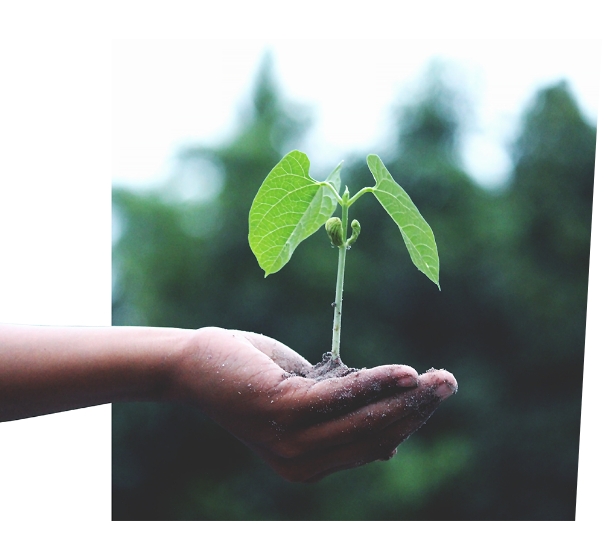 Save the planet
Roovee is an innovation based on environmentally-friendly technology: solar panels and the so-called Internet of Things (IoT), which lets us power and monitor the bikes remotely (less stationary chargers).
Thanks to the precise management of the bike fleet, we can reduce our environmental impact while maintaining the efficiency of the system.
The future is not stuck in traffic; the future comesby bike.
The future begins
in your phone
The sharing economy (ride-sharing in case of bikes) changes alllines of business, one by one. These days, we now rent most things instead of buying them, from cars to television.
City bikes will soon be as common as city buses or the water supply network. These things were not always around either, yet now they are seen as completely "natural" in our society.
The future cannot be put off for tomorrow. Tomorrow is already the future.
Let us make this future easier, more comfortable, and healthier for every citizen. Call us and let's talk about it.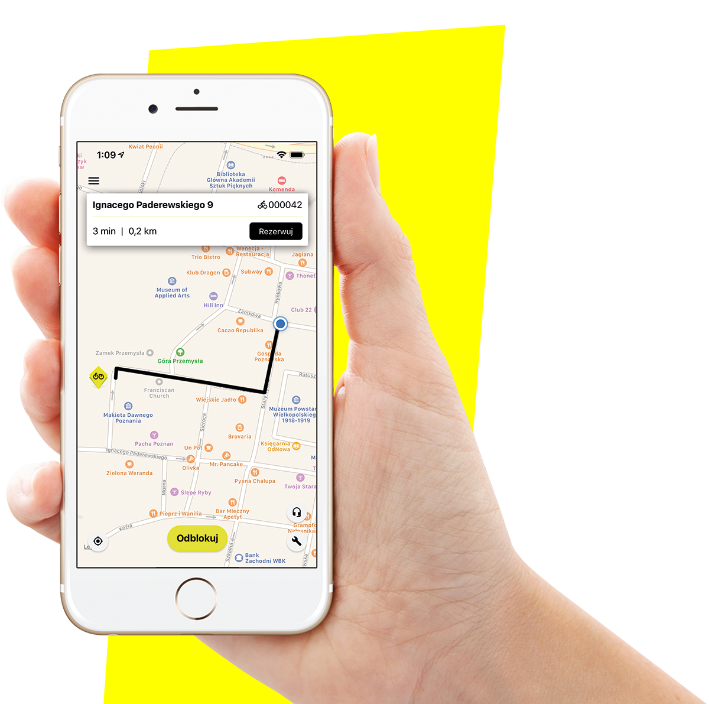 DO YOU HAVE QUESTIONS?